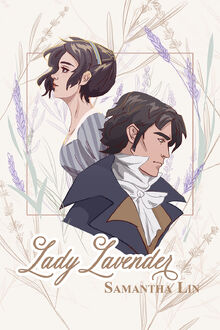 Lady Lavender is a spin-off novel written by Samantha Lin. It was released in December 2019 following a successful Kickstarter campaign. It chronicles the relationship between Miss Ellie Ashcroft and Lord Sutton and explores themes of family, friendship and love. Other key characters include Ellie's half-brother Richard Ashcroft and her best friend Harriet. It also explores upon the deep friendship between Lord Sutton and Mr Graham.
The novel takes place a year after the events of Regency Love in a universe where the protagonist, Kitty Fairfield, marries Mr Ashcroft and resides in Thornleigh Abbey.
Synopsis
[
]
With the support of her closest family and friends, Ellie Ashcroft holds a private exhibition of her paintings, where she meets outspoken and opinionated Lord Sutton. Their relationship deepens when they discover that Ellie's brother Richard and Lord Sutton's closest friend James Graham are both in the 5th Regiment of Foot and are preparing to join the Peninsular War.